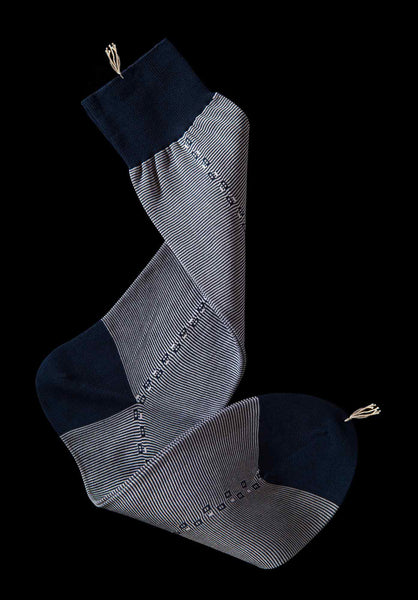 Cotton Clocks Mid-Calf
52 USD
Our "Cotton Clocks" style is an homage to the classic "vertical clocks" pattern of the 1920's. It's knit with a stretchy fabric for the ultimate comfort and fit, and as part of our "Satchmo Jazz" Collection, which is inspired by the great Louis Armstrong, it's designed to inject a jazzy accent to a stylish outfit.

MID-CALF
MARINE BLUE / WHITE   ||   100% Fil d'Ecosse Cotton

FEEL:    Buttery-Soft   /   SILKY-SOFT   /   Balanced    /   Textured
GAUGE:    Fine Semi-Sheer  /   THIN-OPAQUE   /   Mezzo   /   Full-Bodied
WEIGHT:    YEAR-ROUND   /   Spring-Summer   /  Fall-Winter

Made in Italy

For optimal long term care for this style, we recommend the following:
&nbsp&nbsp&nbsp&nbsp• &nbsp&nbspMachine&nbsp-&nbspwash or hand&nbsp-&nbspwash with mild soap, cold water, on a
&nbsp&nbsp&nbsp&nbsp&nbsp&nbsp&nbsp&nbsp&nbspdelicate cycle.
&nbsp&nbsp&nbsp&nbsp• &nbsp&nbspNEVER place in a dryer, lay flat or hang dry, avoid direct sunlight.

SHIPPING:
Standard Shipping
• Available in the continental United States
• Shipping: $20 - Free Worldwide from $400
• Orders will typically arrive in 4 - 7 business days (Monday through Friday, not including holidays)



COMPLIMENTARY RETURNS:
If you are not satisfied with your purchase for any reason, you may return your order (unworn and in original packaging) within 30 days from the date of shipment for a full refund of the purchase price. Simply email our customer service department at support@williamabraham to get instructions regarding retur on product.