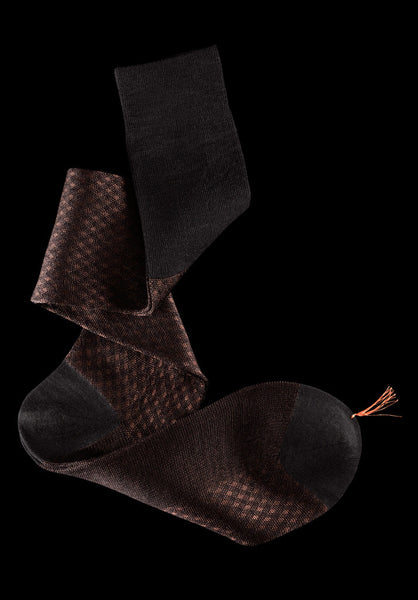 Gingham
68 USD
Although a timeless pattern, notable for its prominence in the Ivy League of the 1950s, our Gingham is updated with an alluring play on contrasting textures.  The paradoxical mix of soft merino wool with the smooth luster of silk offers a unique blend of two different fabric worlds, inspiring a revisit to the classics.  With a subtle sheen and a cozy soft finish, this fall-winter style offers a casual yet chic twist on a traditional pattern.

BLACK / TAUPE
75% MERINO WOOL, 25% SILK

FEEL:   BUTTERY-SOFT   /   Silky-Soft   /   Balanced    /   Textured
GAUGE:   Fine Semi-Sheer   /   Thin-Opaque   /   MEZZO   /   Full-Bodied
WEIGHT:   Year-Round   /   Spring-Summer   /   FALL-WINTER

Made in Italy

For optimal long term care for this style, we recommend the following:
&nbsp&nbsp&nbsp&nbsp• &nbsp&nbspDry Clean only.

SHIPPING:
Standard Shipping
• Available in the continental United States
• Shipping: $20 - Free Worldwide from $400
• Orders will typically arrive in 4 - 7 business days (Monday through Friday, not including holidays)



COMPLIMENTARY RETURNS:
If you are not satisfied with your purchase for any reason, you may return your order (unworn and in original packaging) within 30 days from the date of shipment for a full refund of the purchase price. Simply email our customer service department at support@williamabraham to get instructions regarding retur on product.