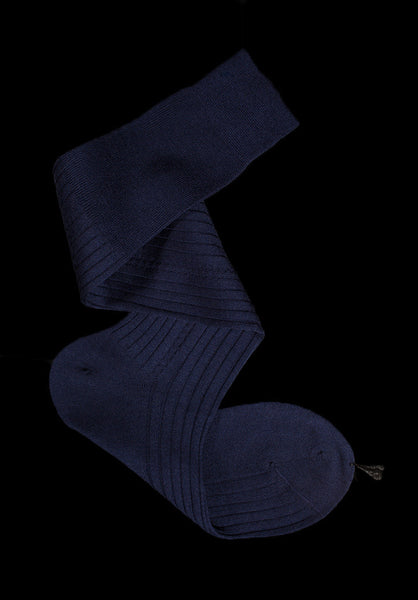 Diamond Rib
88 USD
An exclusive collaboration of William Abraham x Permanent Style, the "Diamond Rib" is the consummate gentleman's sock.  This luxurious blend of fine silk and Superfine Merino (which is a cashmere-like 16.5 microns) is as buttery-soft as cashmere, but has the strength and durability that comes with fine Merino and Silk.  Its fine gauge and high needle count combine to make this the perfect staple for year-round comfort and breathability.  As an homage to the classic "clocks" pattern of the early 20th century, we added a diamond-stitch pattern down a single-rib on each side.

NAVY
70%% MERINO, 30% SILK

FEEL:   Buttery-Soft   /   SILKY-SOFT   /   Balanced    /   Textured
GAUGE:   Fine Semi-Sheer   /   THIN-OPAQUE   /   Mezzo   /   Full-Bodied
WEIGHT:   YEAR-ROUND   /   Spring-Summer   /   Fall-Winter

Made in Italy

For optimal long term care for this style, we recommend the following:
&nbsp&nbsp&nbsp&nbsp• &nbsp&nbspOptimum: &nbsp&nbspDry-clean.
&nbsp&nbsp&nbsp&nbsp• &nbsp&nbspMinimum: &nbsp&nbspMachine-wash or hand-wash with mild soap, cold water,
&nbsp&nbsp &nbsp&nbsp&nbsp&nbsp&nbsp&nbsp&nbsp&nbsp&nbsp&nbsp&nbsp&nbsp&nbsp&nbsp&nbsp&nbsp&nbsp&nbsp&nbsp&nbsp&nbsp&nbsp&nbsp&nbsp&nbsp&nbspon a delicate cycle.
&nbsp&nbsp&nbsp&nbsp• &nbsp&nbspNEVER place in a dryer, lay flat or hang dry, avoid direct sunlight.

SHIPPING:
Standard Shipping
• Available in the continental United States
• Shipping: $20 - Free Worldwide from $400
• Orders will typically arrive in 4 - 7 business days (Monday through Friday, not including holidays)



COMPLIMENTARY RETURNS:
If you are not satisfied with your purchase for any reason, you may return your order (unworn and in original packaging) within 30 days from the date of shipment for a full refund of the purchase price. Simply email our customer service department at support@williamabraham to get instructions regarding retur on product.